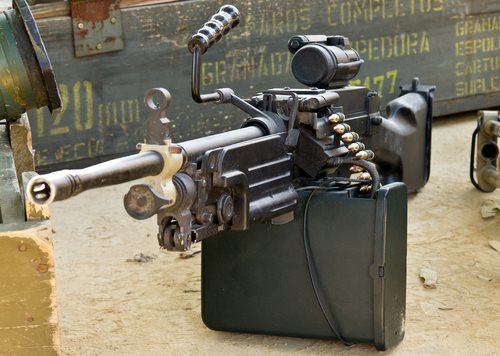 Machine guns are designed as fully automatic weapons which can be mounted or be portable, depending on the intended use of the weapon. For example, naval ships may have mounted machine guns to used for defense, in case the ship should be approached by enemy ships. Yet, members of the navy may also have potable machine guns so that they can easily move about the ship while utilizing the weapon.
A machine gun uses ammunition that is usually in an ammunition belt, which quickly and automatically loads the weapon as it fired. In order to continue firing, the shooter simply needs to hold the trigger down and the gun will continue to fire until the trigger is released or the shooter runs out of ammunition.
Machine guns generally fire several hundred rounds per minute. Federal law includes terminology which designates any fully automatic weapons as machine guns. The weapons are very accurate when mounted, but are less so when they are used as portable weapons.
The military commonly uses mounted machine guns as a form of suppressive fire. The guns can in fact be used for several hours, before they become too hot to continue. In fact, many machine guns have an air system built in to help the gun cool so that it may be fired for longer periods of time. There are machine guns which may overheat quickly, but the guns that have the cooling system built in, can be fired for hours before they must stop firing or overheat.
Comments
comments