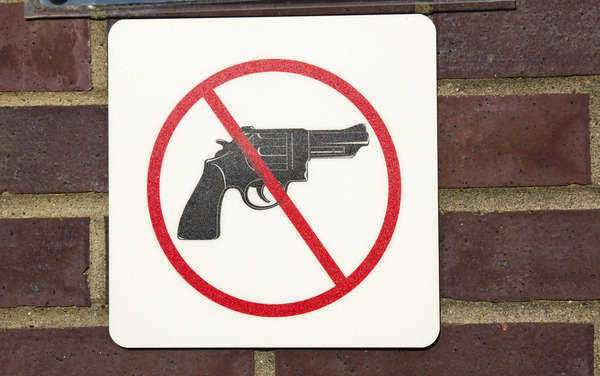 Mayors Against Illegal Guns is a coalition of, as the title would suggest, mayors from various American cities who have banded together in order to take action against the problem of illegal guns, be it through implementing new gun laws in their own jurisdictions, or through whatever other means they can. As they say on their website, "The issue of illegal guns is not conservative or liberal; it is an issue of law and order — and life or death."
The prevailing opinion of this coalition is that illegal guns are a major problem, not because guns are inherently dangerous, but because the presence of guns in the hands of individuals who cannot legally hold them is very dangerous. The coalition's primary aim is not in restricting guns, but is instead in combating crime via new gun laws and enforcement procedures.
Over 500 mayors from across America have signed a statement of principles, attaching them to the coalition, including prominent members Mayor Michael R. Bloomberg of New York and Mayor Thomas M. Menino of Boston.
This statement of principles is not necessarily a statement of action, but is instead simple a list of the basic ideals that the coalition holds, with which the signing mayor agrees; no mayor is committing to act in certain specific ways or to implement certain specific new gun laws, but each is committing to principles such as punishing to the maximum effect those criminals who possess, use, and traffic in illegal guns, or targeting and holding accountable irresponsible gun dealers who break the law by knowingly selling guns to straw purchasers (according to the website).
The group was founded in 2006 by an initial group of 15 mayors after a meeting at Gracie Mansion in New York City. Now, the group has members in over 40 states, and is actively involved in attempting to make the public more aware of the problem of illegal guns. They offer up news on the subject, as well as information on new gun laws in legislation, and state and local initiatives that might be important to interested parties. They also offer purely practical information about what to do if your gun is lost or stolen.
In 2008, the organization released a report titled The Movement of Illegal Guns in America: The Link between Gun Laws and Interstate Trafficking. The report came to the conclusion that those states with the weakest laws concerning gun regulation were also the most likely to be the source of illegal guns in other states. In other words, the number of illegal guns in America is greatly heightened by the prevalence of weak gun laws in some states, while strong gun laws exist in others.
A gun can be purchased in one state and simply transported to another, illegally, but with little difficulty. Their response to this would likely be to suggest new gun laws to increase the measures for controlling guns, but the group does not come out with overarching policies to which all its members adhere.
Mayors Against Illegal Guns is notable for its bi-partisan membership, and also for all it has accomplished in its fight to crack down on illegal guns, from new gun laws to simply increasing public awareness. It has actually even succeeded in getting Wal-Mart, the largest seller of firearms in the nation, to adopt the Responsible Firearms Retailer Partnership.
This Partnership is a ten point code designed to prevent the spread of illegal firearms. The partnership includes provisions such as one for the required videotaping of the point of sale for all firearms transactions, and one for denial of all sales without a successfully returned background check.
Mayors Against Illegal Guns stands out as one of the foremost efforts to eliminate illegal guns in America today. Their work should be lauded, both for its goodness, and for its ability to transcend party lines.
Comments
comments